Will the rising costs of veterinary care help fuel the growing Pet Insurance Industry?
Research by the American Pet Products Association shows a consistent year-by-year rise in the number of American households that own pets, with data from 2013 indicating that the number had risen to a huge 68 percent. With other studies indicating that over 90 percent of these pet owners consider their pets as part of the family, will the rising costs of veterinary care help fuel the growing Pet Insurance industry?
This familial bond with pets wasn't as prevalent in the past, but, fortunately, veterinary medicine has kept pace with the evolving human-animal relationship, meaning pets can now live longer, happier lives. However, in recent years vets have experienced increasing hostility from owners regarding the growing costs of veterinary bills. With the APPA reporting that spending on pet health care hit $14.37 billion in 2013, this isn't surprising.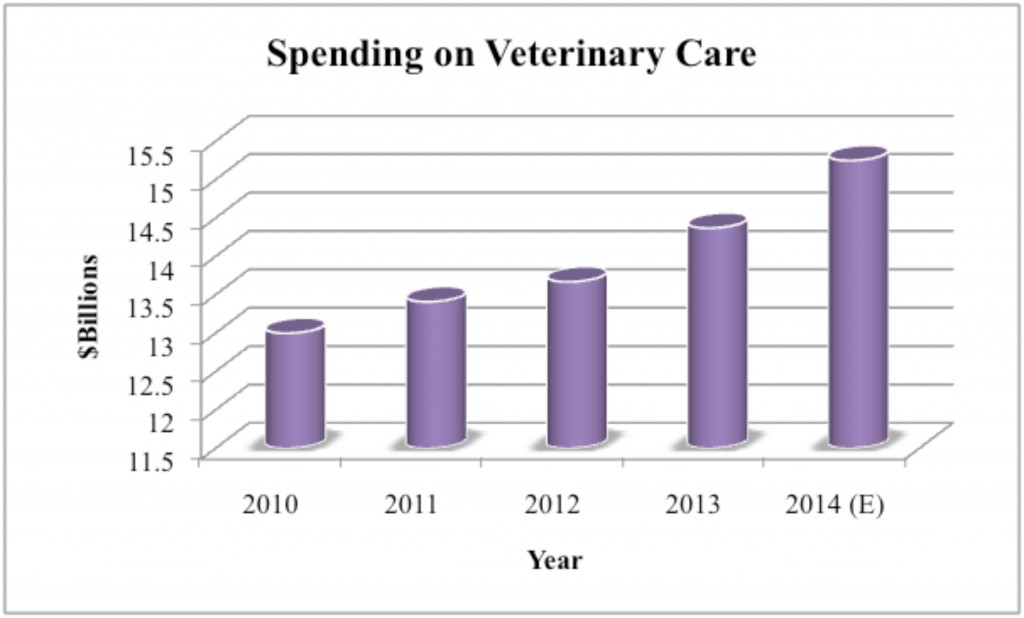 Source: www.americanpetproducts.org
What pet owners don't often consider is the advancements in pet health care that trigger these increases. In fact, veterinary medicine has made huge leaps over the last ten years, with treatments like stem cell therapy, laser therapy, and organ transplants all now feasible for animals. Even day to day diagnostic techniques have become more robust. With the technological backup of lab work, ultrasound, MRI scans, CAT scans and many other options vets are provided with an abundance of information to quickly and reliably diagnose a pet's ailment. The downside of this is the increasing financial pressures placed on pet owners. This in turn creates the dilemma of how much an owner should spend on a pet's treatment when—as a member of the family—the value of a pet's life can no longer be calculated by its replacement cost.
The difficult process of weighing up the value of treatment options has existed for a long time in the healthcare industry but is a relatively new phenomenon for pet owners. Current NAPHIA data suggests that less than 1 percent of cats and dogs are insured in the United States, meaning that the majority of owners have to face this decision without the financial umbrella provided by insurance. With the American Veterinary Association reporting consistent growth in the number of registered specialists, the availability of specialized treatment will continue to grow. This means the cost/value dilemma is likely to be faced far more frequently, fueling the need for financial backup from insurers.
Although the US Pet Insurance Industry is experiencing year-on-year growth and investment, the number of insured pets pales in comparison to those seen in other countries like the UK and Sweden. So will the rising costs of veterinary care propel the US Pet Insurance Industry to the levels of these other countries? To answer the question it's important to consider the barriers preventing people from taking advantage of Pet Insurance. Research indicates that low product awareness and excessive policy exclusions are key issues for consumers. Pet owners are very aware of what insurance won't cover, with confusing lists of exclusions dissuading many potential buyers. To take advantage of the growing number of consumers looking for solutions to large vet bills, an increased awareness of the benefits of Pet Insurance needs to be developed. Communication needs to show that insurers will provide coverage for many of the new diagnostic tools and treatments developed by the advancements in veterinary medicine.