Pet Insurance Comparison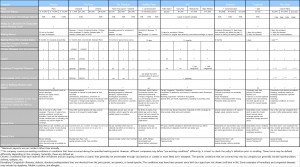 Choosing the right pet insurance can take a lot of research. The varying coverage options combined with the high number of variables—including exclusions and payout levels—means that it's not always easy to make clear comparisons. There's a minimum of at least ten key points to research before making a decision on which pet insurance policy is best for you. To make this process easier we've compiled the policy data from eight of the leading pet insurance companies into one easy to use chart, so you can see the basic facts all in one place. The comparison includes policy information from Petplan, Pet First, Pet Premium, Healthy Paws, VPI, Embrace, Trupanion, and Pets Best. The full chart can be found by clicking the image above, but first here's a more detailed breakdown of the findings for each key point.
Maximum Payout.
The first variable we looked at was the payout maximums. Some insurers state a maximum per incident payout, whereas others state a maximum annual payout and some a combination of the two. The payouts ranged from $1000 to unlimited, with Trupanion and Healthy Paws offering the highest payout options. Payout levels can heavily influence the cost of an insurance plan, so it's important to find the right balance of cost and coverage. Researching potential medical costs for your specific breed of pet can help you establish your minimum needs.
Reimbursement Percent.
Reimbursement percentage is the amount of the bill the insurance company will cover. Our findings show that they range anywhere from 65 to 100 percent, depending on the plan, and can often be customized to help you adjust the monthly payments to a level that suits your budget. The one exception is VPI; they pay out based on a predetermined benefits schedule, not on the actual veterinary costs for your pet, meaning the actual percentage paid out varies and can be difficult to predict.
Customizable plans.
One exciting finding was that all eight companies now offered customization options, including deductible levels, meaning you can adjust policies to meet your monthly budget.
Waiting Period
Waiting period is the time before the policy takes effect; the key finding here was that the waiting periods are hugely different between companies. For example, Pet Premium has no waiting period for accidents but Healthy Paws has a fifteen-day period. Embrace insists that your pet must have visited the vet within the last twelve months or during the waiting period, and Pet First's policies vary by plan. Each company has its quirks; make sure you read the policy details carefully to ensure your pet meets coverage requirements.
Chronic Condition Coverage
A chronic condition is an illness that is unlikely to be cured, may reoccur, or may last for a long time. These conditions can be expensive to treat, and the costs can add up over a long period. All of the insurers have plans that will cover chronic conditions, but it's sometimes only the higher level plans. The comparison chart shows the breakdown plan by plan.
Cancer Coverage
The majority of plans cover Cancer treatment, it's usually the lowest level policies that don't provide any cancer coverage with the others offering varying levels. Check the fine print of your individual quote to check for any exclusions as some companies, such as VPI, are known to be stricter about the cases they cover.
Hereditary and Congenital Condition Coverage
This is one of the areas of coverage that varies most between plans. Five of the insurers provide across the board coverage whereas others like Pet Premium and Pet First only offer coverage on higher-level plans. VPI loses out in this category as well, providing no coverage options for congenital diseases, this could be a deciding factor if you're after insurance with a broad range of coverage.
Hip Dysplasia Coverage
Hip dysplasia is a common complaint in many breeds, and the cost of treatment can be very expensive for severe conditions. Four out of eight of the surveyed companies provide coverage under all of their plans; the others provide coverage on their higher-level plans. Healthy Paws states that only pets that are enrolled before the age of six are eligible for coverage, so this may not be the best plan for older pets.
Optional Wellness Coverage
Wellness coverage is becoming an increasingly competitive area of the insurance market. If you're the type of person who wants the additional security of having regular vet visits and vaccinations covered, then a wellness plan may be a great choice for you. Only three of the surveyed insurers—Petplan, Trupanion, and Healthy Paws—don't offer some kind of wellness add-on. The others offer varying coverage that can be added onto your policy for an additional fee.
Exclusions
The most important thing to remember for every policy is that pre-existing conditions are never covered. This can get complicated as companies have different definitions of pre-existing. The chart lists the exclusions for each company and policy, study these in detail before deciding on the right policy for you.
The table includes a list of the pros and cons for each policy; this can be used to help you narrow down the options that would work for you and your pet. It's important to remember that the coverage may vary depending on your breed and age of pet and your location. This table is intended as a guide to quicken the pet insurance buying process, always read the fine print to ensure you are getting the level of coverage you want.