Holiday Pet Gift Guide and Contest!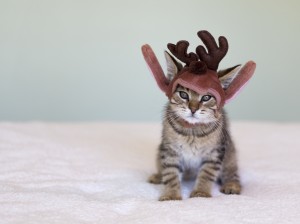 With the holiday season fast approaching the team at Pet-Insurance.org, has been searching for the perfect gifts for our pets this year. We've come up with a list of the products that we loved and think you will too. The best news is that we've decided to run a Pet Holiday Photo Contest to give away two amazing gift boxes worth over $100. It's easy to enter, simply submit your holiday-themed pet photo here, and we'll choose one lucky dog and one lucky cat to win the prizes. We can't wait to see your photos, good luck!
1. Ho-Ho Hairball by West Paw
A hairball in a Santa hat! Your cat will love this catnip stuffed toy from West Paw Designs! The combination of the bell and catnip will keep your cat's attention for the entire holiday season.
2. Halo Liv-a-Littles
It can be hard to keep track of the ingredients you're feeding your pets sometimes, but not with these Halo treats—they list only one ingredient! These pure treats are made from either freeze-dried salmon, beef or chicken and are suitable for both dogs and cats.
3. Willie The Conquerer Collar by R.Riveter
We love this cow leather collar made from recycled materials. R.Riveter supports military families, and each collar is handmade in the US by a military spouse. And best of all, it's available in five sizes making it easy to find the perfect fit for your pooch.
4. TrackR Bravo
The TrackR is a coin-sized tag that you can attach to your pets collar. It uses a Crowd Sourced GPS Network that can track your pet, a great piece of equipment to help you find your dog should they ever get lost.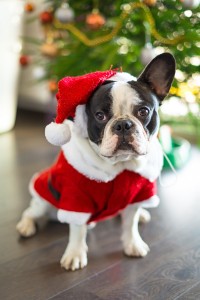 5. Greenies
Dental problems are common for both dogs and cats, and can be expensive to treat. Help promote dental health by putting a tub of Greenies Dental Chews under your tree this year. They're proven to protect teeth and help freshen your dogs breath, you'll be thankful the next time your pet gives you kisses!
6. Rudy The Reindeer by West Paw
What could be better than a reindeer for your pet's stocking this year! This super cute toy is soft and fleecy and has a squeaker to keep your pet entertained for hours. Plus it's available in a smaller size for smaller dogs.
7. Planet Dog Orbee Lump of Coal Toy
Is your dog on the naughty or nice list this year? They can be on both with the lump of coal toy from Planet Dog. It's bouncy, buoyant, tough and has a minty taste. We think it's a great treat for your favorite bad dog this year.
8. Dogsbutter by DOGforDOG
There're three big reasons why we love this product. 1. It's all natural and made from a recipe designed for dogs. 2. They have awesome ideas on how to use it to entertain your pet on their website. 3. For every product sold they donate the equivalent to a shelter!