Mastiff Pet Insurance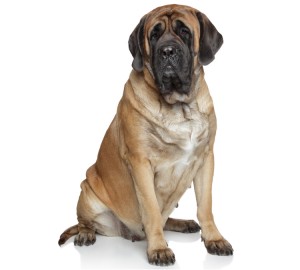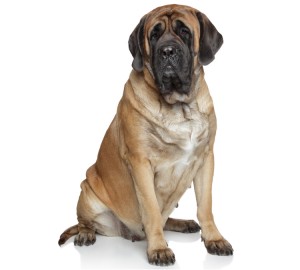 This Mastiff is an ancient breed of massive size. This heavy-framed, solid dog originated in Britain in 1000BC, as a warrior-dog, bred to intimidate the enemy. Their size even impressed the Romans, and the Mastiff is fabled as being Julius Caesar's favorite dog.
"Mastiff" derives from Latin "mansuetus" meaning domesticated, which hints at the true nature of these loyal giants.
In the Middle Ages (5th to 15th centuries), owning a mastiff was a sign of wealth–they cost a lot to feed–and they patrolled country estates. They have a strong instinct to guard, and fought alongside soldiers in battle. These days, mastiffs are no longer aggressive and take to the role of family dog with gentle dedication.
Mastiff Health: Do they Need a Pet Insurance Plan?
The Mastiff's weakness is his joints. Growing dogs are prone to growth pains in their long bones, which can require expensive pain-relieving medications. As adults, their massive size puts a strain on elbows and shoulders, which can damage the cartilage joint lining and result in lameness.
Mastiffs are genetically predisposed to hip dysplasia, and it can be difficult to cope with the lack of mobility in such a large dog. Hip replacement surgery offers a solution but is costly, and insurance is a wise precaution for the mastiff owner.
Other health issues include an increased risk of leaky heart valves and a serious narrowing of the main vein leaving the heart, both of which can lead to heart failure.
Other Insurance Considerations:
• Mastiffs suffer from "diamond eye", or slackness in the eyelids. This condition can lead to repeated eye infections, and corrective surgery may be necessary.
• The mastiff is prone to cruciate ligament rupture in the knee. Specialist surgery is needed in order to reduce the risk of premature arthritis.
• Acne is common in mastiff puppies, and whilst treatment is simple, their large size makes even a simple course of antibiotics a costly option.
To compare plans from the best Pet Insurance providers, simply fill in our quick and easy to use quote form.