Russian Blue Pet Insurance
Also known as Archangel Blue.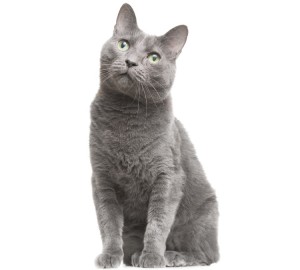 Although several different cat breeds have a blue coat color variety, the Russian Blue is the first and truest. The breed originated from Russia, possibly the Archangel Islands, which could account for this cat's other name of the Archangel Blue.
In the 1860s sailors saw and fell in love with the Russian Blue and several cats made it to Britain and Europe. However, the numbers remained low outside of Russia, and breed development remained in control of the Russians. The breed took off in the US after World War II, where its trademark blue coat and green eyes mark it apart from other cats of a similar color.
Russian Blue Health: Why do they Need a Pet Insurance Plan?
Happily the Russian Blue has a well-deserved reputation for being a healthy breed. The main weakness is a tendency for problems of the urinary tract. Russian Blues are prone to growing crystals and sludge in their urine. Potentially this debris could cause a blockage in their urethra, which is an emergency situation requiring urgent veterinary attention.
Along with many purebred cats, Russian Blue may suffer from kidney disease in mid-to-late life. However, modern veterinary medicine has an armory of treatments such as prescription diets and medical therapy that can support kidney function and provide an excellent quality of life for many years following diagnosis. Pet Insurance can help with coverage of these costs and provide peace of mind that you can afford to provide your cat with the best care possible.
Other Insurance Considerations:
• The Russian Blue has a fondness for food and can become overweight if allowed to overindulge. Obesity is a risk factor for diabetes mellitus (sugar diabetes) and early arthritis.
• Try and brush your Russian Blue's teeth every day. Along with many cat breeds they are prone to tartar buildup that can cause problems such as gingivitis and loose teeth, which require veterinary attention.
• They are known to suffer from Chronic Kidney Disease.