Persian Cat Pet Insurance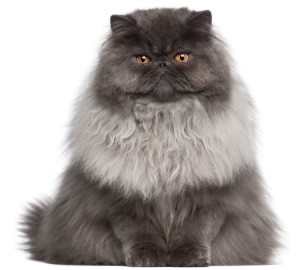 We need to go back to 1620 to find the first mention of long-haired cats imported from Persia and Turkey. These cats were unusual for having long hair–before this people had only seen short-haired cats.
By the 1800s traveling diplomats brought back both Persian (from Persia) and Angoran (from Turkey) kittens as presents for family. These two breeds were initially similar, with the Angora having longer, finer fur. However, selective breeding created a distinct physical difference and by 1871, the Persian was first exhibited as a different breed.
These first Persian's were "doll-faced" with a small, but definite nose. In the past 150 years, selective breeding has created the "flat-faced" Persian with a flat profile and no protruding nose.
Persian Health: Why do they Need a Pet Insurance Plan?
Unfortunately, when it comes to inherited health conditions, Persian cats have a great many issues. They suffer from a whole raft of problems ranging from those that are merely a nuisance to the potentially life-threatening. Any prospective Persian owner is well advised to take out insurance to meet his pet's healthcare needs.
The most obvious issues are those concerning the Persian's flat face. Breeding for a flat nose has shortened the nasal turbinates, created narrow nostrils, and made it difficult for the cat to breathe. In some cases, reconstructive surgery is necessary to open up the nostrils and shorten the soft palate at the back of the mouth, so the cat can breathe more easily.
Other Insurance Considerations:
• Persians suffer from a genetic kidney problem called polycystic kidney disease (PKD). Large fluid-filled cysts form, which replaces functional kidney tissue, sending the cat into premature kidney failure. Affected cats need special diets and various medications to slow up the deterioration.
• Persian cats have poor skin immunity and a more likely than other breeds to suffer from ringworm (a fungal infection which can be passed onto people). Treatment includes prolonged courses of anti-fungal medications, as well as repeated tests to check when the infection has cleared.
• The Persian's flat face means he is likely to suffer from tear overflow down his cheeks. The constant dampness lends itself to yeast infections, to which the breed is predisposed.
To compare plans from the best Pet Insurance providers, simply fill in our quick and easy to use quote form.