Norwegian Forest Cat Insurance
Also known as a Skogkatt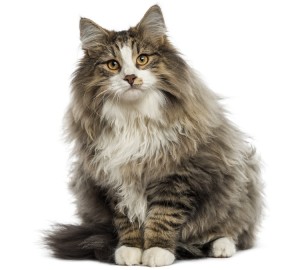 This ancient breed originated in Norway and is the subject of many fables and myths. Indeed, six Norwegian Forest Cats are famed with pulling the Norse goddess Freya's chariot through the sky. The breeds' origins have been lost down the centuries, but they are said to have accompanied Viking explorers on their longboats to hunt rats.
In Norway, this is a working cat, keeping vermin out of barns. In later centuries, the breed became endangered because of mixed breeding with regular cats, but the Norwegians recognized the danger and set about preserving the gene pool. The breed spread from Norway in the 1970s, with the first cats arriving America in 1979.
Norwegian Forest Cat Health: Why do they Need a Pet Insurance Plan?
There is a genetic predisposition for Norwegian Forest cats to suffer from hip dysplasia, which is the development of poor hip anatomy. In cats, the signs of hip pain can be subtle because they don't usually limp, but are more likely to be reluctant to jump, spend more time sleeping, or not groom themselves. Your vet will get a clue by manipulating the cat's hips and testing the range of movement, but ultimately a diagnosis is made by radiography and feeling the joints under anesthetic. Treatment varies from pain relief to total hip replacement surgery, the right insurance will help provide the best care for your cat.
Other Insurance Considerations:
• Norwegian Forest cats are also prone to a serious heart condition called hypertrophic cardiomyopathy (HCM). This causes thickening of the heart muscle which prevents it from pumping properly. Sadly this condition affects both the young and old, and requires close monitoring and regular heart medications to support the cat's circulation.
• Although rare, Norwegian Forest cats are recognized as suffering from glycogenosis. This genetic fault causes errors in the metabolic pathway governing sugar storage and leads to muscle weakness and death at a young age.
• The breed is also known to be at risk of developing polycystic kidney disease.
To compare plans from the best Pet Insurance providers, simply fill in our quick and easy to use quote form.