Manx Cat Pet Insurance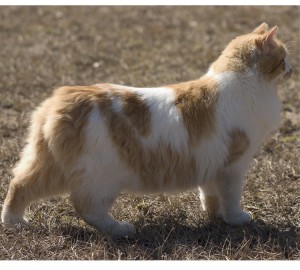 Manx cats are named after an island located off the west coast of Great Britain; they are the only breed of cat known to be tailless. The isolated location of the island allowed the tailless mutation to dominate, making it a commonly occurring genetic trait amongst their cat population. It's impossible to say whether tailless cats arrived on the island with passing ships or whether the mutation happened on the island, but this tailless cat species will forever be known as the Manx cat.
Manx Health: Why do they Need a Pet Insurance Plan?
Manx cats are at risk of developing all of the health problems generally found in cats; however, they are also at risk of developing one unique to the breed itself. Manx Syndrome is caused by the same genetic mutation that is responsible for their lack of tail, it's known to affect up to twenty percent of the breed. It can cause a variety of problems such as spinal issues, paralysis, bowel obstruction and Spina Bifida. Treatment can be expensive and certainly add up over the duration of your pet's life, choosing insurance that will help cover these specific problems will help you get the best possible care for your Manx.
Other Insurance Considerations:
• They are known to suffer from eye problems that require treatment to prevent vision loss.
• Manx cats are considered high risk for developing arthritis in their tailbone.
• Some of the common health issues found in Manx cats are known to develop later in life, meaning even the healthiest of kittens may develop problems in later life.
To compare plans from the best Pet Insurance providers, simply fill in our quick and easy to use quote form.