Burmese Cat Pet Insurance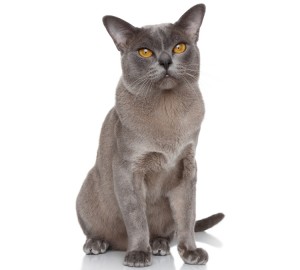 The Burmese cat gains its name from Burma, where it was a temple cat. Those original cats were mentioned in an ancient manuscript, the Thai Cat Book, written between 1350-1767. It seems likely the ancestors of modern Burmese cats were a mix of copper-colored cats and Siamese, with the types of colored cats we know today having been around less than one hundred years.
In the 1930s an American, Dr. Thompson came by an attractive brown cat, Wong Mau, which he decided to try and breed true to produce more of a similar appearance. This proved difficult to achieve with many of the kittens having Siamese like points. Eventually, he succeeded, and the modern Burmese cat came into existence.
Burmese Health: Why do they Need a Pet Insurance Plan?
The limited gene pool of original stock means the Burmese is prone to a high number of genetic health problems ranging from heart disease to a bizarre syndrome causing severe facial pain.
It is common for Burmese females, around 6-7 years old, to suffer from diabetes mellitus (sugar diabetes). The signs are increased thirst and weight loss despite a good appetite. Diabetes can be controlled with a combination of diet and daily insulin injections, but involves regular blood tests and monitoring to check the correct dose of insulin is given. Insuring your Burmese cat at a young age is a great way of ensuring you can provide gold standard treatment in later life, no matter what the expense.
Other Insurance Considerations:
• Their metabolism predisposes them to form calcium oxalate crystals in their urine. These crystals may clump together to form bladder stones, which either cause a blockage (an emergency situation) or discomfort such that the stones need surgical removal.
• Another bizarre Burmese condition is a marked muscular weakness caused by low blood potassium levels. This is diagnosed by blood tests, and the cat needs a potassium supplement, probably for life.
• The Burmese breed suffers from pancreatitis, a painful condition where the pancreas tries to digest itself. The majority of patients need to be hospitalized for aggressive pain relief and supportive care with intravenous fluids.
To compare plans from the best Pet Insurance providers, simply fill in our quick and easy to use quote form.