British Shorthair Pet Insurance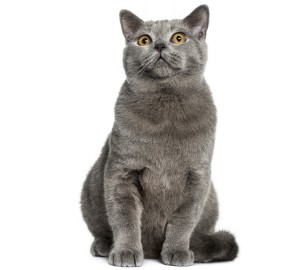 The British Shorthairs' roots go back 2,000 years when the invading Romans imported European type shorthair cats. These went on to breed with native street cats to produce the ancestors of the modern British Shorthair.
The breed's chunky characteristics became more defined in the 19th-century thanks to selective breeding. This peaceful yet characterful cat became very popular and took part in the first ever cat show in 1871 at the Crystal Palace, London. They also featured heavily in the first comprehensive book about cats, written in 1889 by Harrison Weir.
Later, their popularity dipped temporarily as Persians and Siamese numbers increased, but soon recovered to become one of today's most popular pedigree cat breeds.
British Shorthair Health: Why do they Need a Pet Insurance Plan?
This delightful breed can suffer from several inherited health problems ranging from heart disease to clotting disorders and bladder stones.
One such condition is a portosystemic shunt (PSS) which results in neurological signs such as staggering, stupor, seizures, and eventually coma. The problem is caused by a blood vessel by-passing the liver with the result that toxin levels rise in the blood and poison the brain. The options for treatment include life-long medication, or a specialist operation to tie-off the blood vessel. There is nothing more heart-breaking than knowing treatment is available but the cost to be prohibitive, so insuring your British Shorthair cat is highly recommended.
Other Insurance Considerations:
• British Shorthair cats suffer from an early-onset form of heart disease, which causes heart failure in relatively young animals. A variety of excellent heart medications are available that can extend a good quality of life.
• Although rare, hemophilia affects more than its fair share of British Shorthair cats. The cat bleeds excessively from minor wounds and may require a life-saving blood transfusion.
• Feline infectious peritonitis causes fluid to build up in the belly, and sometimes the chest. Whilst this condition has no cure, treatment with interferon is of benefit in some cases.
To compare plans from the best Pet Insurance providers, simply fill in our quick and easy to use quote form.