American Curl Pet Insurance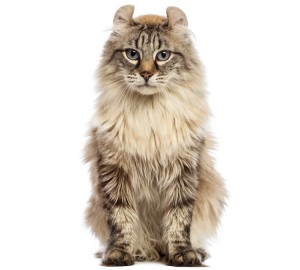 The American curl is notable for his curled back ears and playful nature. The breed goes back a little over three decades with the first American curl (from which all subsequent curls are descended) being a stray cat in Lakewood California. Six months later this same cat, Shulamith, gave birth to a litter of kittens all with the same curled ears–and the breed was born.
Since then it has been shown that the ear-curl gene is autosomal dominant, which means any cat with this gene will have curly-ears. By the mid to late 1990s the breed, although rare, was firmly established in both long and short-coated varieties.
American Curl Health: Why do they Need a Pet Insurance Plan?
The American curl comes from a wide gene pool, and so the breed has the enviable reputation of no known genetic health problems. Their one minor fault is a tendency towards narrow ear canals, which limits air circulation and can make the curl prone to ear infections. This risk is decreased with regular ear cleaning, and you should clean your curls ears twice a week to keep them healthy.
Other Insurance Considerations:
• When kept as an indoor cat, the curl may put on weight. This makes a number of health problems more likely such as diabetes mellitus (sugar diabetes), urinary tract issues, skin infections, and stiff joints.
• Every cat, regardless of breed, needs healthy teeth and gums, and this means regular teeth brushing. If this is not possible, get your curl's mouth checked at least twice a year by a veterinarian, so as to spot problems such as sore gums or holes in dental enamel before they
become sore.
• Curls are prone to urinary tract issues.
To compare plans from the best Pet Insurance providers, simply fill in our quick and easy to use quote form.