Abyssinian Pet Insurance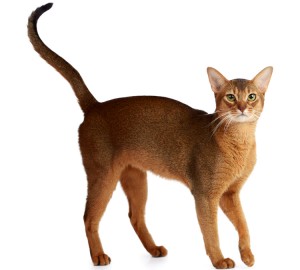 The Abyssinian was first believed to have come from Ethiopia, when it was first known as the Ethiopia cat . However, recent DNA testing has shown that their origin is more likely to have been the coastal areas of the Indian Ocean. Whatever their heritage, Abyssinians were first exposed to the western world in Great Britain in the nineteenth century. It wasn't until the early twentieth century that the first Abyssinians made it over to the United States and their popularity boomed sometime after the 1930s.
Abyssinian Health: Why do they Need a Pet Insurance Plan?
Abyssinians are susceptible to a number of problems that would make health insurance a sensible investment. One of these is Patella Luxation, a condition where the kneecaps no longer move correctly. Depending on the severity of the problem your Abyssinian may need surgical intervention to help restore movement and to prevent further injury. All surgery is expensive; choosing insurance that covers this and the other issues common in Abyssinians can help relieve the financial stress of vet costs and ensure your pet can receive the best possible treatment.
Other Insurance Considerations:
• They are known to suffer from early onset periodontal disease.
• Renal Amyloidosis has been reported in Abyssinians.
• Degenerative eye issues are common and require treatment to prevent severe vision impairment.
To compare plans from the best Pet Insurance providers, simply fill in our quick and easy to use quote form.