5 Tips for Potential New Pet Owners this Holiday Season
Adding a pet to the family is an exciting time. Once you've made the decision that you and your family are ready to bring a pet into your home, the task of finding and preparing for your new furry friend begins. The right cat or dog can bring an immense amount of joy to any family, but the key is be prepared. We've made a list of our top five tips for potential pet owners to help make the process easier: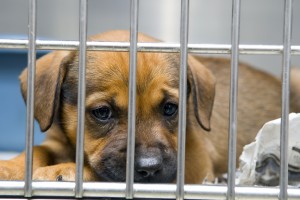 Involve the entire family.
There's a huge temptation to surprise someone with a pet on Christmas morning, and in the initial excitement it may seem like you made the perfect choice. However, every pet has its own individual personality, and in some circumstances their personality might not be the right fit for your home. Another option is to buy a voucher for a pet shelter instead, that way you'll be able to involve the entire family in the decision process and find a pet that connects with everyone involved.
Consider an older pet.
Puppies and Kittens are incredibly cute and are a great choice for a lot of people, but don't overlook the benefits of adopting an older dog. When you adopt a pet that has outgrown its puppy and kitten years, you're choosing a pet that has also outgrown a lot of destructive habits. When you meet an older dog, you can be sure that you're seeing their adult personality, which includes their behavioral traits, and likes and dislikes. Some older pets also need less of a time commitment; you can work with a shelter to find a pet that matches your lifestyle, and that can fit happily into your home.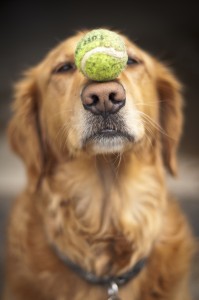 Find good obedience training classes.
Training your pet not only helps to make them good citizens, but also helps to keep them safe. Dogs get themselves into all kinds of situations, and good training can be the difference between them getting hurt or staying safe. It's also a great bonding experience for you and your new pet, helping to define your role in their life and letting them understand the rules of your pack.
Plan for the expected.
It's important to remember the routine care costs for pets when you calculate your monthly budget. Pets require regular vaccinations, and other care including flea, tick and worm preventatives. It's also a good idea to make sure your dog sees the vet at least once per year for a checkup. Factoring in these costs can help prevent any nasty surprises after you bring your new pet home.
Plan for the unexpected.
Cats and dogs are curious by nature, meaning it's not uncommon for them to get injured and just like humans they are susceptible to numerous health problems that require treatment. Veterinary care costs can be very expensive, often reaching into the thousands of dollars. If a large unexpected vet bill would be a problem for you then, you should consider pet insurance. Pet health insurance can provide coverage for many situations including emergency care as well as chronic and hereditary illnesses. However, it doesn't cover any pre-existing conditions, so it's wise to take out a policy before your pet develops health problems. We've gathered some quotes to give you an idea of what policies costs, the cheapest quote often offers considerably less coverage so it's important to find the right balance of coverage and cost. Quotes are for a two-year-old, mixed breed, male dog living in California.
Coverage Quotes: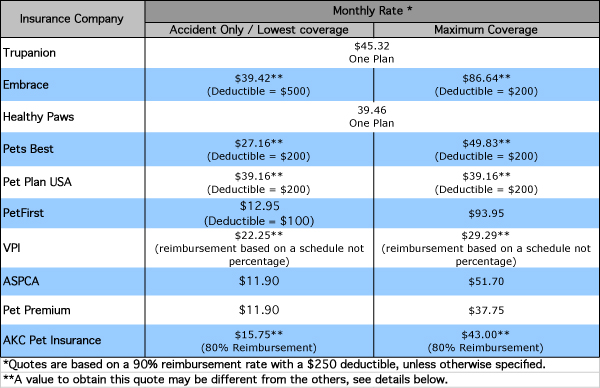 Quotes are affected by breed, age and location. Premiums can be adjusted by changing the deductible, reimbursement and coverage level. For unbiased pet insurance information and to request a quote, visit Pet-Insurance.org.